Classmate News
Beverly Semple Green
Received notification of the passing of Beverly will post details as they become available.
*************************
Monie Menacker
We will post details as they become available.
*************************
Juan Benjamin Holguín, Sr.

Austin - Juan Benjamin Holguín, Sr., of Austin, Texas, died peacefully circled by family members on September 11, 2020. Juan was born March 31, 1945, in Juarez, Mexico.

Visitation will be from 1 to 5 pm on Saturday, September 19 at Funeral del Angel Restlawn, El Paso. No services will be held at this time. Private burial will be held at Fort Bliss National Cemetery. A memorial service is pending when we can safely gather again.

Memories of Juan and messages to his loved ones can be shared at www.wcfish.com and https://www.caringbridge.org/public/juanholguin"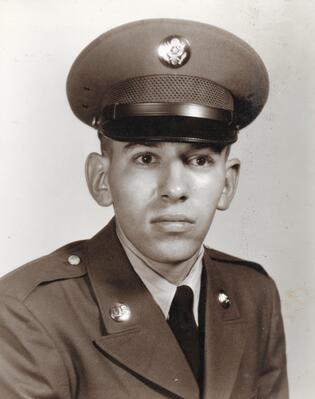 *************************
Arturo Reyes AKA Yogi
Arturo Reyes, 74, of Port Orange, Florida, succumbed to cancer at the comfort of his own home surrounded by his close family and friends on July 20, 2020.
Art was born June 18, 1946 in his beloved hometown of El Paso, Texas to José and Consuelo (Gonzales) Reyes. He graduated from El Paso High School in 1964 and from the University of El Paso in 1968. On June 15, 1968 he married his love of his life Diana Lee McCrea in Titusville, Florida. Art was a loving father, husband, grandfather, and a friend to everyone.
Art is survived by his wife Diana of 52 years, two daughters, Tammy Price and her husband Steven of San Diego, CA, Stephaine Casteel and her husband Matthew of Tampa, FL, and son Joseph Reyes and his wife Claudia of Hinkley, OH; eight grandchildren, William, Diana, Clara, Georgianna Price, Austin Reyes and Ethan Casteel, and Sebastian and Julian Reyes, his brother Ernie Reyes and his wife Ida of Titusville, FL, along with many nieces and nephews. He is preceded in death by his parents, José and Consuelo, and his brothers, Joe and Rudy.
A special thank you to all the family and friends for their loving care and support during his final days. Also, the family would like to extend their sincerest gratitude towards the Halifax Hospice for being very accommodating and supportive during this difficult time.
https://baldwincremation.com/obituaries/arturo-reyes/?fbclid=IwAR0YDi01gDCQdFVFaln1IJTvT9AXDND4UDjSu5VJEQxf_S9xmT4cY0dKKUM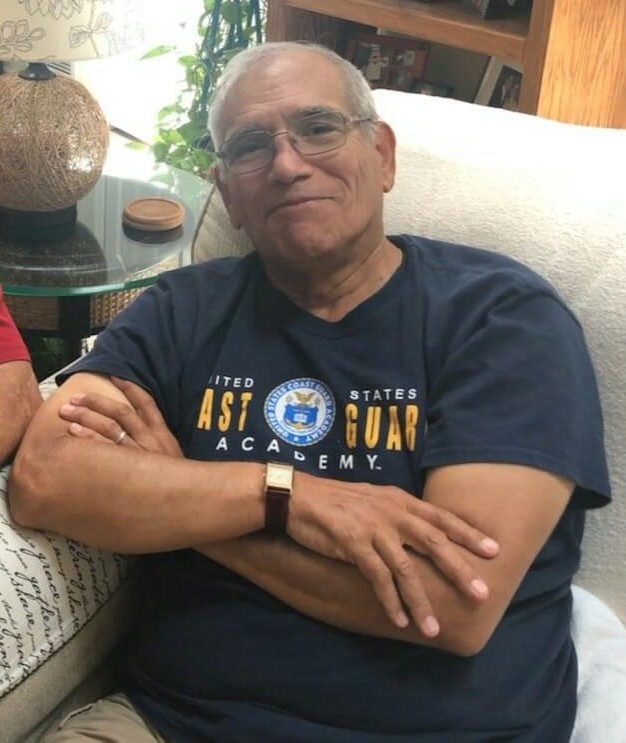 **************************
Kenneth James Haddad, AKA "Bunny"
El Paso - Born April 20, 1946 - Died October 13, 2019 under the care of Hospice El Paso and Loving Hands.

He was preceded in death by his father Najib, mother Julia, sister Maggie Simmons, brother Johnny and nephew Maynard Joseph, Jr aka Joey.

He is survived by his brother Maynard (Anita), sisters Della & Judy; his nephews Dan, Chris & Shawn & nieces Julianne & Laura Lynn; his godsons Chris & Dustin Cazares; along with many cousins, nieces, nephews & friends.

He graduated from El Paso High School then went to SMU to play football, then returned to UTEP to graduate. He was an avid golfer and was a charter member of Santa Teresa Golf Club. He enjoyed his partnership with his brother Maynard at H&H Car Wash & Coffee Shop.

A special thanks to Bunny's dear friend David Cazares who helped throughout.

Cremation has been completed with a memorial service planned on Wednesday October 23, 2019 at 2:00pm at St. Clements Anglican Church, 801 S. Campbell, El Paso, TX with a reception following at H&H Car Wash.

In lieu of flowers, donations can be sent to St. Clements Church, St. George Church, UTEP or Hospice of El Paso in his memory.
https://www.legacy.com/obituaries/elpasotimes/obituary.aspx?n=kenneth-james-haddad&pid=194208968&fhid=7162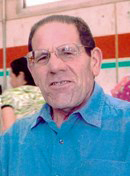 **************************
TOM BARNES
From Mark Blumenthal...
With deep sadness I write to inform you that our former classmate Tommy Barnes passed on Sunday, April 14.
Tommy graduated from Mesita in '59 and EPHS in '64. He had been ill with Alzheimer's disease.
Even though he and I were not close friends at EPHS, I had the good fortune to get to know him very well during the past decade or longer since he and his wife Sue remodeled and moved into a beautiful home just a short walk from where my wife and I live in West Lake Hills in Austin.
Tommy was a gifted artist and photographer and one of the sweetest souls I ever knew.
He is survived by his wife Sue, 3 sisters (Kay, Betty, and Dotty), and nieces and nephews, 2 loving dogs and kitty.
**************************
ANN DAEUBLE
Ann Margaret Daeuble passed away peacefully surrounded by her family in Laguna Niguel, CA on October 10, 2018. Ann left us the way she lived life, holding on to the end because she didn't want to miss out on a thing. She was born, raised and lived most of her adult life El Paso, until moving to Arizona and California five years ago to be closer to her sons and receive specialized medical treatment. She graduated from El Paso High School and attended the University of San Diego. She was always so proud to say she was from El Paso and cherished her family, friends and accomplishments there.

Ann developed many lifelong friendships stretching all the way back to elementary school. She would go out of her way to make everyone feel welcome. She loved her sons and adored her four granddaughters. She would proudly say she had sons, but through them also had two wonderful daughters-in-law and four beautiful granddaughters.

You would never see Ann without a smile, which was infectious to all of those around her. She was a loving mother, daughter, sister, grandmother and great friend to many. She was always up for anything and really cherished being around people.

She is preceded in death by her beloved "daddy", Louis Daeuble, Jr.; her brother Louis Daeuble, III; and her grandsons, Drew and Dane Kienle.

Ann is survived by her mother, Margaret Daeuble; her son Andrew Kienle, daughter-in-law, Jenifer and granddaughters, Ava and Mia; her son, Alexander Kienle, daughter-in-law, Kelly, and granddaughters, Olivia and Vivian, and brother Mike Daeuble.
Services have been arranged through Martin Funeral Home. A mass celebrating Ann's life will be held on October 26, 2018 at 10:30 a.m. at St. Patrick's Cathedral with private interment at Evergreen Cemetery immediately following.
https://www.legacy.com/obituaries/elpasotimes/obituary.aspx?n=ann-margaret-daeuble&pid=190526393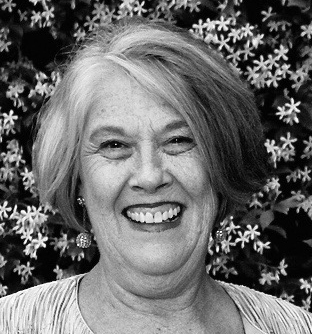 *************************
BILLY HADDAD
William (Billy) Haddad, 71, passed away 1/17/2018. Billy enjoyed a good game of golf, time with his friends and family. Survived by his loving wife of 49 years, Sharon; Children - Kim Haddad (Mark Galvan), Jason Haddad (Amy); Grandchildren - Ashley Haddad Fehr, Isabella Galvan and Alysha Haddad; Brothers - Sam, Johnny and Mickey Haddad. Beloved nieces and nephews. Proceeded in death by his granddaughter, Ann R Galvan. Many thanks to those who supported Billy. Memorial Service Saturday, 1/27/2018 at Martin Funeral Home, 128 N. Resler, 1 p.m. In lieu of flowers, memorial contributions may be made to: Colorectal Cancer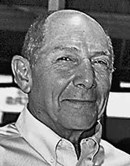 *************************
ARMIDA COOPER FOUNTAIN passed away on October 3, 2017 at the age of 71. She was a loving Mother, Grandmother, Sister, and Friend who will be greatly missed. She was a member of a pioneer Ysleta family, preceded in death by her parents, Gilberto and Maria Cooper and spouse James B. Fountain. She was a lifelong resident of El Paso, and a loyal El Paso High School Tiger, where she was a Varsity Cheerleader. She also sang in The St. Patrick's Cathedral Choir which she loved dearly. Her profession was Speech Language Pathology in Specialty Education and she retired from the El Paso and Gadsden School Districts after 30 years of service. She is survived by her son Jacob B. Fountain, daughter Cristina J. Fountain, grandson Gabriel C. Zepeda, her sisters Yolanda C. Griffin and Anna C. Soto. Visitation will be held on October 8, 2017 from 6:00PM to 8:00PM, with Holy Rosary at 7:00PM at Sunset Funeral Home-West. Funeral Mass will be held on October 9, 2017 at 10:30 a.m. at St. Patrick's Cathedral, 1118 N. Mesa. Inurnment will follow at Evergreen Cemetery on Alameda. Services entrusted to Sunset Funeral Home-West, 480 N. Resler Dr. Please visit our online registry at www.sunsetfuneralhomes.net.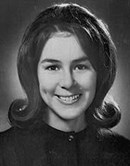 ************************
ROBERT NATERA
Robert (Big Bob) Natera 70, loving husband, father & Grandfather passed away on February 14, 2017. He is survived by his wife of 40 years, Yvonne, children, Tina (Fred), Andrea and Matt, grandchildren, Cody, & Jaden. Brothers, Carlos, Manny, Tony Natera, sisters, Mary Lou, Margie, Lisa Natera and his Panchito Angel Quiroz (Marie) plus 21 nieces & nephews. Viewing will be on Saturday, February 26, 2017 at San Jose Funeral Home East from 4-8pm, Rosary at 6 pm. Funeral Mass will be on Monday, February 27, 2017 at St Joseph's Catholic Church at 10 am. We Love You & Miss You!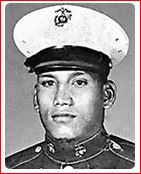 *************************
JAMES MCDANIEL
James Ray McDaniel, age 70, of Round Rock, Texas passed away on January 23, 2017. He was born November 20, 1946 in Gainesville, Texas to Clarence Ray and Mary Ruth (Price) McDaniel. James married Phyllis Plog on June 15, 1968 in El Paso, Texas. He was a CPA before his retirement in 2009.

Survivors include his wife and love of his life Phyllis Anne, son Grant Ray McDaniel and his wife Shelley and grandson Dylan Ray of Round Rock, son Matthew Ryan McDaniel and his wife Heidi and granddaughters Ileigh Elizabeth, Aubrey Shae, and Hadley Brianne of Lubbock, brother Fred L. McDaniel and his wife Brenda of El Paso, and brother-in-law Steve Plog and his wife Carolyn of Virginia.
A memorial service will be held at 2:00 pm on Thursday, January 26, 2017 at Ramsey Funeral Home.
You may share a message or memory in the online memorial guestbook at www.RamseyFuneral.com.
*************************
House Fire
On April 1st I was told I had breast cancer. Two operations later May 5, 2015, just waking up from surgery I was contacted by my sister Anita Meek, many may remember her in the class of 62, called me to tell me my house had burned down. Hard to wrap my head around, Anita lives back ln El Paso. Life alert had called her. My husband was to busy with getting our puppy out, truck moved, and firemen. We may not rebuild--just move to Houston, where our son lives. We were very lucky, no lives were lost and we have a great insurance company ( State Farm ) has been great, at this time they have us housed at Candlewoods Suites, till they can find us a place to move to in Houston. Best advice have full coverage and replacement insurance. Take care all. Billy the last time I saw you,,,,,,, you looked great. Please take care of your self. Miss El Paso still after all these years
Lois (Jolene) Meek Baker
*************************
STEVE SIMON
Steve was buried on Wednesday May 6th with Military Honors at Ft. Bliss National Cemetery. He served in the Army and was a Captain during the Vietman War. Steve was a very good musician, an above average dancer, a very funny person and had a good heart.
I for one will remember his good humor and mostly corny jokes but always with a smile.
Written by Henry Ochotorena
*************************
ROGILIO CARRERA
Rogelio Carrera, 69 of El Paso, TX passed away April 15th 2015. "Roger" beloved husband, grandfather, brother, uncle, father, friend, has gone to be with his Lord. Survived by his wife, Estela of 45 years and daughters, Ruth, Ruby, and Rosanna. Grandchildren, Matthew, Mia, Sophia, and Jacob. Sister, Stella Hanna. Services will be held at Sunset Funeral Home 9521 N. Loop Dr. Visitation on Monday, April 20, 2015 5:00-9:00 pm with a Vigil at 7:00 pm. Funeral Mass will be held at Corpus Christi Catholic Church, Tuesday, April 21, 2015 at 9:00 am. Interment 10:30 am at Fort Bliss National Cemetery with Military Honors. Services Entrusted to Sunset Funeral Home-Americas.
http://www.legacy.com/obituaries/elpasotimes/obituary.aspx?n=rogelio-carrera&pid=174673701&fhid=29138#sthash.pMvJw0w0.dpuf
*************************
CHARLES BUJANDA
July 16, 1946 - March 6, 2015
Charles Bujanda, 68 years of age passed away on Friday, March 6, 2015. Her is survived by his brothers, Joe Bujanda, Charlie Joe Bujanda and Christopher Bujanda; daughters Lorraine Bujanda and Joann Bujanda; brothers Joe C. Bujanda and Larry Bujanda; sisters Marta Bujanda, Irene Quinones and Heidi Bujanda. Visitation will be from 5:00 to 9:00 pm Sunday, March 29, 2015 at Crestview Funeral Home. A prayer service will be at 7:00 pm Sunday, March 29, 2015 at Crestview Funeral Home. Services under the direction of CRESTVIEW FUNERAL HOME, 1462 N. Zaragoza Road, El Paso, Texas 79936, (915) 856-1400.
*************************
DOLLY TUCKER
Dolly R. Tucker passed away on Wednesday, August 27th 2014 in Dallas, Texas after a short illness. She was born on October 21st 1946 to Jesse J. Roberts and Margery Hatfield Evans. She is survived by her son Dannan Tucker (Nikki), daughter Michelle Tucker (Charlie) and grandchildren Ryan and Morgan Smith, sister, Margie Gale (Bill), brothers David Evans (Sandy) and Richard Evans (Vivian), many nieces and nephews and close friends. Dolly was raised in the Upper Valley where she attended Zach White, El Paso High, and Texas Women's University. She was employed by Providence Hospital in the EGG department as a Senior Technician and had been employed with them for over thirty years. Dolly was an avid Dallas Cowboys fan. She also enjoyed the outdoors and loved dragonflys. As a true cowgirl she loved her horses, boots, and rodeos. Services to be held at 11:00 am on September 6th 2014 at Saint Luke's Episcopal Church 7050 McNutt Road. Services entrusted to Sunset Funeral Home-West.

*************************
JOHN MOTTINGER
MOTTINGER, John Michael John M Mottinger, age 67, passed away August 19, 2014, at Global Hospice Care in El Paso. John was born in El Paso, Texas on October 29, 1946. He was a lifelong resident of El Paso, Texas and Santa Teresa, New Mexico. John attended El Paso High School and New Mexico State University. He worked at El Paso Natural Gas Company. He had been a coach for Little League Baseball and a youth director at his church. John's passion was for nature and the outdoors. He raised sheep and horses, and always had canine companions. He enjoyed collecting stamps from around the world. John had a love for Southwestern history and was a frequent contributor to both the El Paso and the surrounding Area website, and the Lincoln County NM Cousins website. He collected family pictures and documented family genealogy. John will be remembered for his sense of humor, stories, and anecdotes. He was preceded in death by his parents, William Max Mottinger and Dorothy Treat Mottinger. John is survived by his son, Wesley Mottinger of Arlington, Texas; his brother William R (Janice) Mottinger of Carrollton, Texas; his sister Carol Mottinger (Frederick) Ramirez of Gainesville, Florida; and friends Kevin Huckabee, Joe Don Stephens, and Alfredo Diaz. A celebration of life will be held at a future date. In lieu of flowers, donations may be made to Global Hospice Care, 1817 Wyoming Ave, El Paso, Texas 79903; or, to a favorite charity. Services entrusted to Martin Funeral Home West. www.martinfuneralhomewest.com
http://www.legacy.com/obituaries/elpasotimes/obituary.aspx?n=john-mottinger&pid=172227779&fhid=7166
*************************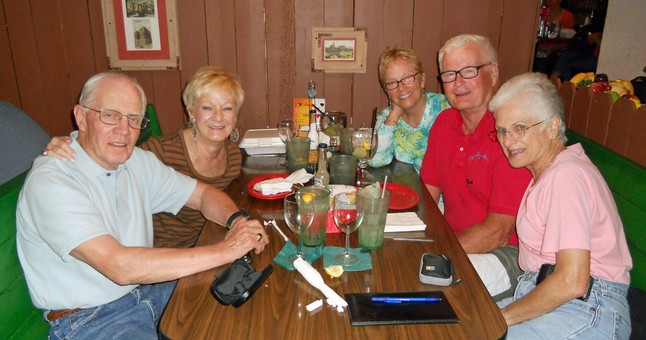 Randolph and Sandy Marrs Young; Sherry Stokes Mullen and Pat; Sandra Aaronson; August 2014
*************************
From Jolene Meek Baker:
Jolene (Meek) Baker will celebrate her 46th happy years of marriage to Dennis D Baker. Dennis went to Austin High then to Burges High, graduated in 1962. We have one wonderful son that lives in Houston, Tx. and works for HP. Has given us two special grandsons. Miss El Paso and Tx. Wish we could have come to reunion.
*************************
During our 50th reunion I chatted with a bunch of people and found out that Billy Haddad had Colon Cancer. I decided to visit with Billy and to find out how he is doing.
Billy wanted me to get the word out to all of us regarding Colon Cancer and what we can do to avoid this disease. I told him that I would be happy to be the messenger.
Billy has stage IV Colon Cancer with a limited spread to his liver and lungs. He has undergone surgery, chemo, and radiation therapy. He has a bunch of needles stuck into his body with various bags that he has to carry around.
Billy is a fighter and I enjoyed my visit with him.
Billy never did. And, that is the word he wanted to get out to ALL OF US.
Yes, you end up making love to your toilet for a day. But, Billy would tell you that is a small price to pay. There are no excuses --- Just, get her done.
Love you Billy and God Bless. John McKelvy