In Memory Program
The memorials you see written here were submitted by family members and classmates. Some of the memorials are short, some are long but hopefully all of them will help us remember the classmates we have lost.
As far as we know, the order follows the chronology of their passing. So, the first person we honor is Margie Hughey, because for many of us, Margie may have been the first person we knew (other than a grandmother or grandfather, or, in some cases, even a parent) who had died. Margie's death shocked us, and most of us probably still remember her funeral, which had standing room only.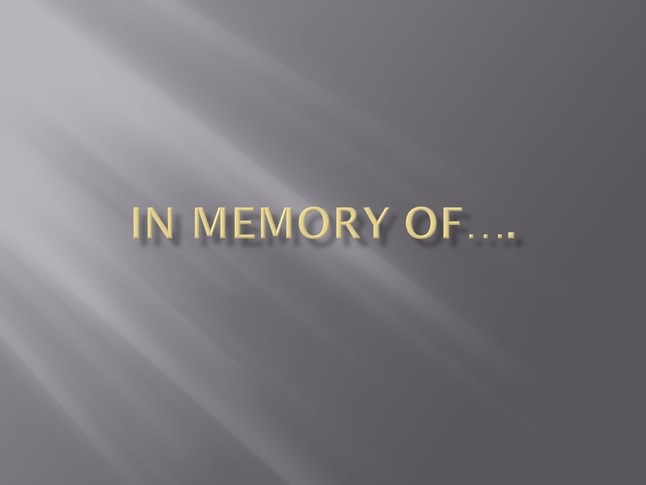 Margie Hughey from Andrea Kahn
Margie came from a long line of EPHS Tigers. She would have been the fourth Hughey to graduate EPHS following in the footsteps of her father and sisters. But tragically Margie was killed in a terrible car accident along with her boyfriend, Oscar Morrill in 1962. She was only 16 and will always remain 16 in our memories. Margie was a good friend, fun loving, sweet, smart and a great tennis player and my doubles partner. I can imagine, had she lived a full life, she would have embodied those same qualities and attributes and would have grown older with the rest of us. She will always be remembered and missed by the friends and family she left behind.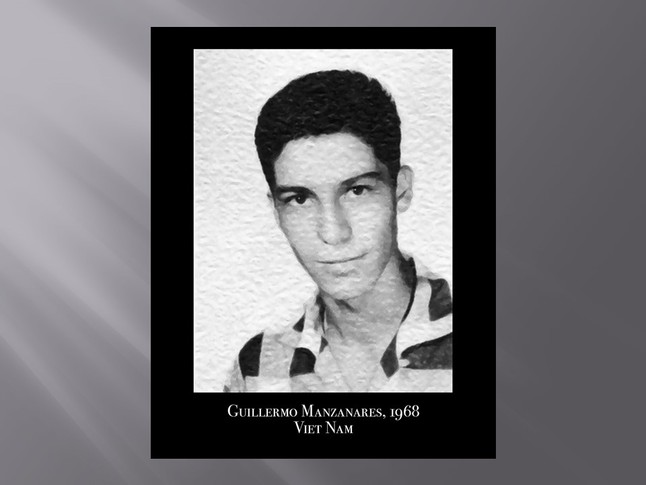 Guillermo (Willie) Manzanarez from Robert Manzanarez (Willie's brother)
Willie was in the EPHS class of' 64 but enlisted in the Army in 1963 and didn't graduate with the class. He was killed in action in Vietnam during the war, on Friday 13th in 1968. He was a hero, documented by the medals he was awarded and by a memorial dedicated to the crew that was killed along with him in Ft. Riley Kansas. But what few people know is that he was 24 years old, married with two children (Laura, 3 & William, 18 months) and had been honorably discharged in 1967 as a Sergeant in the Army Rangers. He reenlisted to become a helicopter pilot and was good enough to become the Commanding General's pilot. Enclosed is picture of Willie in his helicopter and a list of awarded medals.
Guillermo was my older brother who looked after me for ten years, that's how old I was when he joined the Army. After that, I saw him maybe 5 times when he came to visit. My last memory of him was when he surprised me by coming to the school to pick me up. I was running the stadium stairs at EPHS for track practice and I saw a man talking to coach Meeks on the football field wearing a green aviator jacket with a bright orange liner, dark Ray-Ban sunglasses, and a baseball cap. Very Cool! I didn't recognize him. Coach Meeks called me down and as I got closer I realized that it was Guillermo. I was elated. Little memories like that flashback throughout my life. I miss my brother and can only imagine what it would be like if he had survived. He would have been so proud of his kids.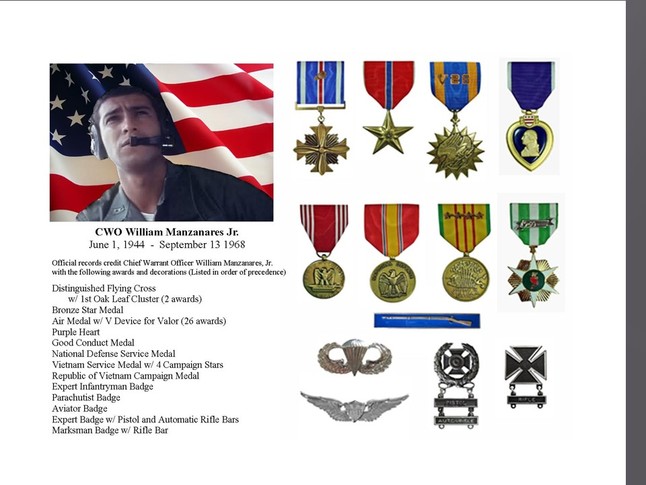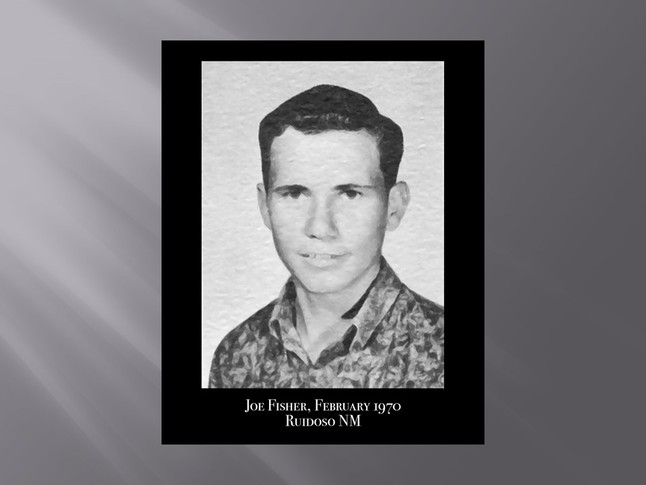 Joe Fisher…from Barbara (sister-in-law)
Joe born was born in Pendleton , N.C. and died in February of 1970. He attended Texas Western College (UTEP) and then worked for Brown & Root Oil in Gulf of Mexico. Joe's love was skiing and he was a ski instructor in Sierra Blanca at the time of his tragic death in a car accident at the age of 25.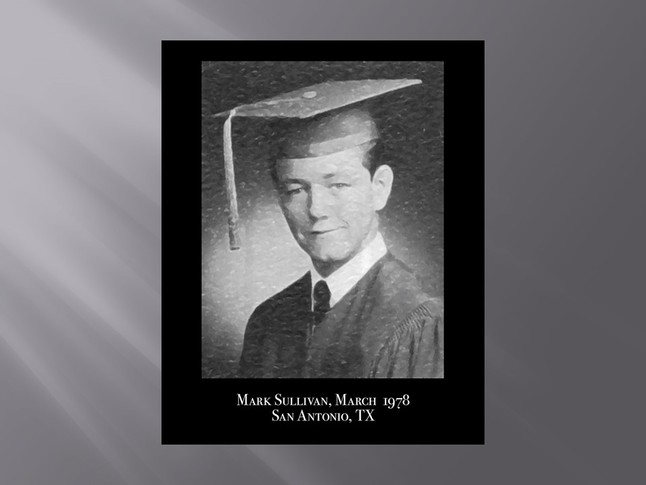 Mark Sullivan from Patsy Telles
Mark was already his own person with nothing to prove during an age when we struggle for that. He had a great sense of humor, intelligence, and a heart made of sweetness. He served in the military in Vietnam and passed away in 1978.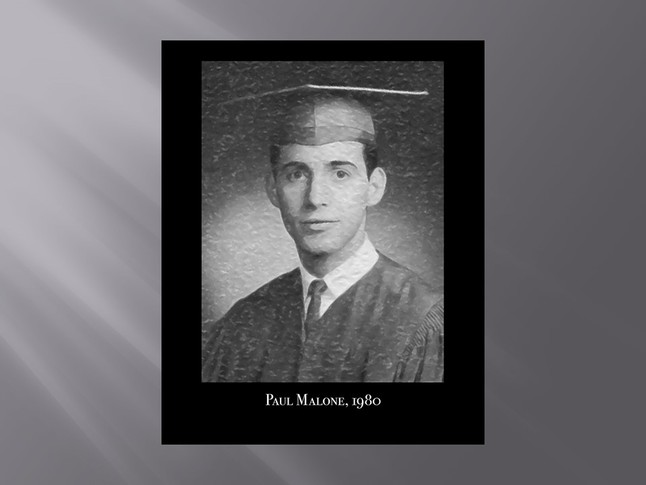 Paul Malone from Willie Sanchez, Jr
Paul was tender-hearted and kind. He loved people more than football, which is sometimes a rare characteristic to find in Texans! Paul left Baylor and went to Colombia with the Peace Corp because he wanted to make a difference in people's lives. Paul was also a perfectionist when it came to himself, but he never used that same standard with others. He loved and accepted people just as they were.
I especially remember Paul as a second string fullback on the "B" football team, and even though he had limited playing time he was always encouraging and never discouraged. He just wanted to belong and he contributed a lot to a winning team.
Three months after Linda and I married in Sioux Falls, SD, my Spanish-speaking church in El Paso, TX had a small wedding reception for us. How Paul found about the reception I have no idea. All I know is that he was the only high school classmate that attended. Paul cared and in his quiet manner, he let you know that you were special.
In his short time on this earth, Paul touched the hearts of many people. Those dark brown eyes saw beyond what was to what could be. I think that was a constant tension for Paul, being able to see what could be. Paul was shy, yet outgoing. He was bright, but really didn't seem to know it. I'm not sure he ever felt that he measured up or made a difference, but each of us that knew him would say we are better for having known Paul.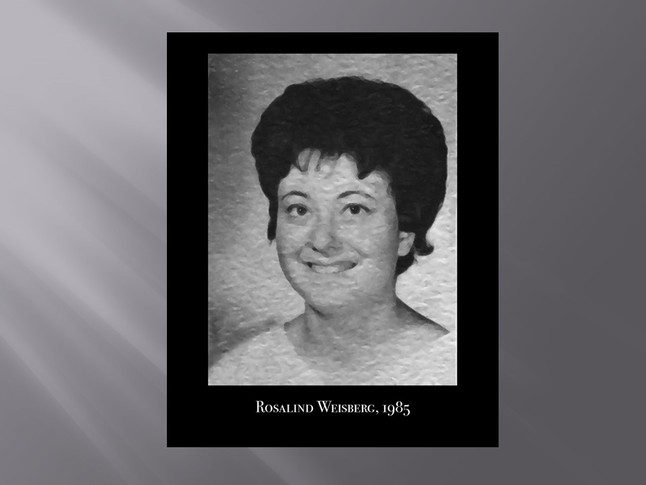 Rosalind Weisberg from Lynnell Patricia Skea Boone
Rosalind was a very good sport and fun to tease. I loved to Joke about her being a Yankee and shopping at Loman's in New York. I remember her dimples and freckles and what a sweet person she was.
D'Laine Jones Fulcher Herron from Sandy Marrs Young
D'Laine was such a pretty girl and grew into a beautiful woman. "Duh" as we fondly called her had an infectious laugh and was a wonderful and caring friend. She was the proud mom of son Christopher. She passed away in El Paso April, 1991.
Kris Kolliner Kelly
Kris, who was born in Placerville, California, was married in June, 1964 and had 2 children. She passed away on January 2, 1993 at the age of 46.
Joe Chagra from Pat Wieland
Joe was co-captain of the football team and was involved in many student activities. He had a great sense of humor and was loved by all. Joe wanted to be a doctor and studied pre-med at UTEP. He applied more than once for medical school, but the long hours he worked as an orderly at Hotel Dieu Hospital while in school kept him from getting the grades he needed for medical school. His brother, Lee, convinced him to go to law school and the rest is history. After a tumultuous journey, with resolve and an amazingly positive attitude, Joe turned his life around. He tragically died from injuries sustained in a traffic accident on IH-10 near the Sunland Park exit.
Shelly Fiedelman Peinado from Andrea Kahn
Shelley moved to El Paso with her family from Memphis, Tennessee in the early sixties. Shelley joined our class and quickly became a part of the EPHS Tiger family acclimating to life in El Paso. In high school, Shelley ranked among the brightest and wisest. She made friends easily and remained a loyal, devoted and thoughtful friend until she sadly passed away. I recall our 20th reunion and that long-awaited day to play our homecoming football game against arch-rival Austin High. Sitting in the stadium, there was Shelley just as I remembered her twenty years prior, large black rimmed glasses, short cropped hair and just as enthusiastic and spirited a Tiger as she was those many years before. I see Shelley's image in my mind's eye, and while she is gone, she is not forgotten. It has been said that you can't go home again. But, I believe that our warm memories of the bonds of friendship and the spirit of our EPHS heritage stays with us forever.
---
Raquel Escobedo Santana from husband Melchor
Raquel was actively involved in the lives of her three children and in their school activities. She served as President of the El Paso Independent School District Council of PTAs and was active as a coach for their club soccer teams. Additionally, she was given the honor of having a brick placed in her name at the state's PTA headquarters in Austin. She passed away from cancer of the liver.
Helen Rhodes Kitchen from K Elise Packard (Choo Choo)
Helen was a daughter, a sister, a mother and a curious learner. Helen was a friend. Helen loved competition: she competed for an attendance record at Sunday School, on the tennis court, in high school grades and elections.
Helen was brilliant and went to Stanford and studied in Germany. Her daughter, Hulda, was her pride and joy. Helen lived to see Hulda be successful in school. Many said that Hulda looked just like Helen.
Helen was killed in a car accident in the 1990's. For this friend, Helen's death came too soon.
Irma Torres Stewart from Irene Sierra [inserted after initial numbering]
Irma loved to play tennis and was Ms Araiza's teacher's pet. Ms Araiza made her the manager for the PE class.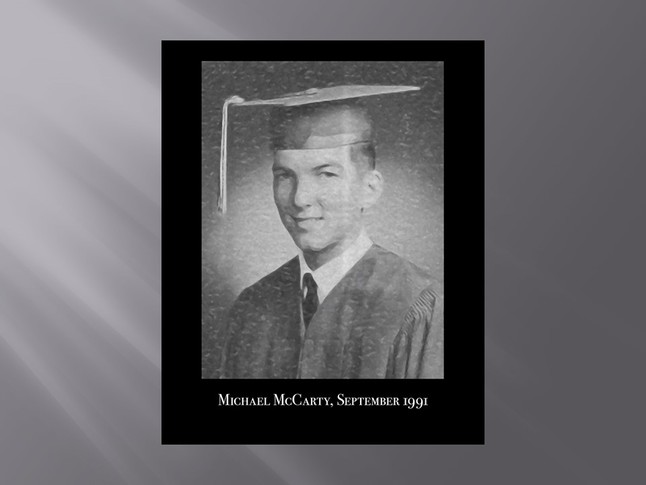 Mike McCarty from Tommy Barnes & Susan Schick
Mike's dad was TWC basketball coach and his family used to live on the TWC campus when he was a young boy. Susan Schick Case remembers bringing in French fries from the Charcoaler and they'd sit on the back row of choir class – every single Tuesday – and they'd pass around the fries to other kids in the class. He was a sweet, decent fellow. Tommy Barnes remembers swimming together at the big TWC pool every day in the summer. Mike died in September 1991.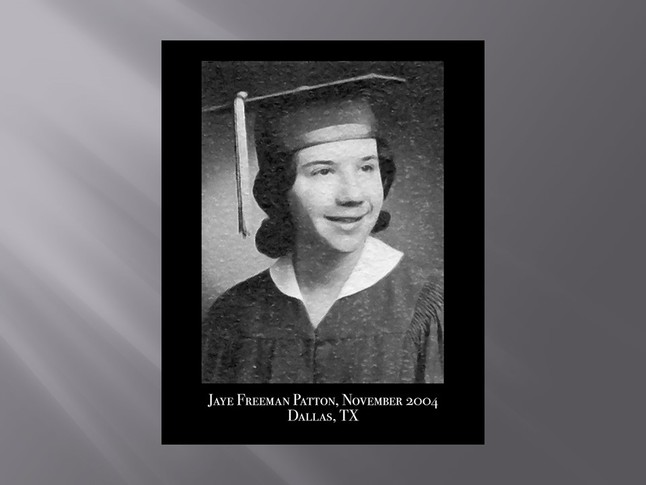 Jaye Freeman Patton from Judy Freeman:
Jaye attended the 40th reunion and had a blast. She returned to Dallas so happy and then was gone a month later very suddenly, most likely cardiac. She had a successful career as an ultrasound tech. She was doing volunteer work for CASA, working with foster kids. She had 2 wonderful daughters, one of whom died in 2010. Maybe it was a blessing she did not have to live through that. She now has 2 adorable granddaughters, one of whom is named Jayelyn after her. As her twin, I miss her every day. We were supposed to grow old together.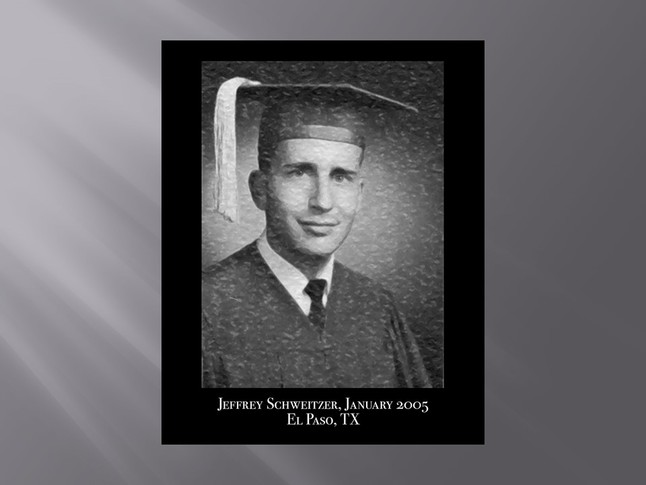 Jeffrey Schweitzer from Berk Kalman
One of the nicest people no one ever got to know. There's nothing wrong with being different. He told me of his plans to get married and was looking forward to being a parent. Plans fell through and my heart was crushed that he never had the family he so looked forward to.
Helen (Wesa) Housman Starks from Judi Freeman:
Wesa was a wandering soul and we lost track of her for a lot of years. She lived in West Virginia working for a newspaper (probably one of several endeavors in her lifetime) at the time she came to Dallas about a year after Jaye died and we got together. She did not have good memories of high school but myself and others reassured her that she was a big part of making everything so fun. She died about a year later from cancer with her daughter in California, right after one of our reunions. We sent her a card from the reunion that many had signed and a stuffed tiger that she received right before she died, which her daughter said was a comfort.
Dudrow Campbell…from Joan Martin
Friend and neighbor from kindergarten at Mesita to 8th grade. The first day of kindergarten Dudrow told me to get off some large wooden building blocks I was sitting on. Just jealous because he hadn't thought of it first. He moved to Germany so his father could serve in the military. Resumed friendship when he returned to EPHS for 11th and 12th grade and we took some classes together at UTEP. I think he was a hero because he enlisted and served in the Navy when everybody else was trying to get out of serving. Dudrow had good outlook on life. Dudrow retired to South Carolina after having a career in the Navy and died of a massive heart attack.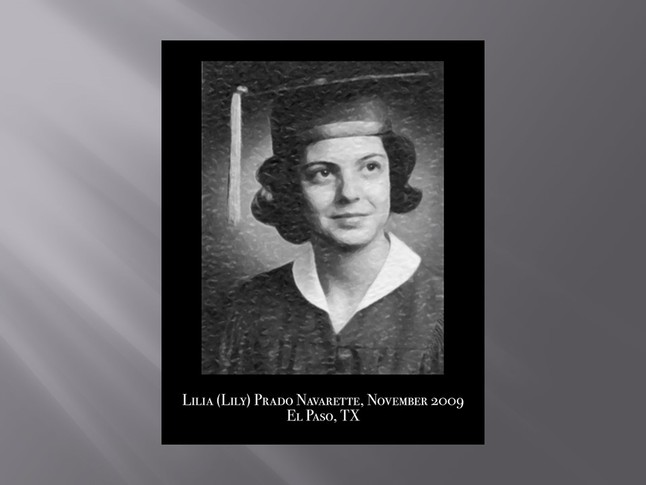 Lilia (Lily) Prado Navarette from Rosario Rios Ellis
Lily was my friend and I have sweet memories of her. She was the sweetest and most quiet of all the group we used to hang out with. She and Susie Martinez and Cecilia Chacon (Aguilar) and I used to meet at a certain corner and walk to school every day. Lily was first class.
From Robert Lopez: Lilly was a very nice and sweet person. She was a second grade teacher at Pebble Hills Elementary School. She taught there for 20 or 25 years, then taught in the Socorro District. One of Lilly's daughters got a scholarship and graduated from MIT. Lilly died in 2010 of brain cancer.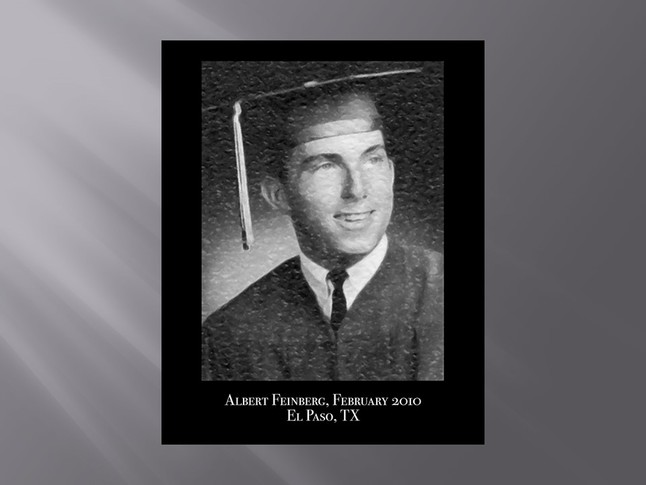 Albert Feinberg from Gary Weiser
Albert passed away on February 14, 2010 after a long battle with brain cancer. He left two sons and four grandchildren. Albert was known in high school as a very dear and loyal friend with a very keen sense of humor and had a large circle of friends. Albert attended the University of Colorado and received his degree from UT Austin. At the time of his death he was a very successful financial consultant with Smith Barney Morgan Stanley.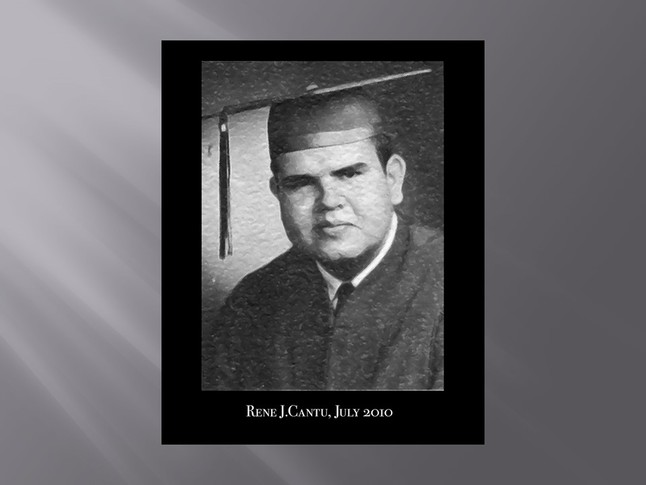 Rene Jerome Cantu from Art & Diane Reyes
Friend, classmate, husband and father. Rene passed away on July 14, 2010 in El Paso at the age of 64. Rene was employed in the TV/Radio industry. During his career he worked for KBRG Radio, KGOTV and KNTV all in the San Francisco/San Jose, California area. Later he was also employed by the Univision outlet in the El Paso area, KINT-TV and also had a radio talk show from a Juarez radio station. In addition, Rene was a court Spanish interpreter in the El Paso court system. He was survived by his wife, Consuelo and his daughter, Michela.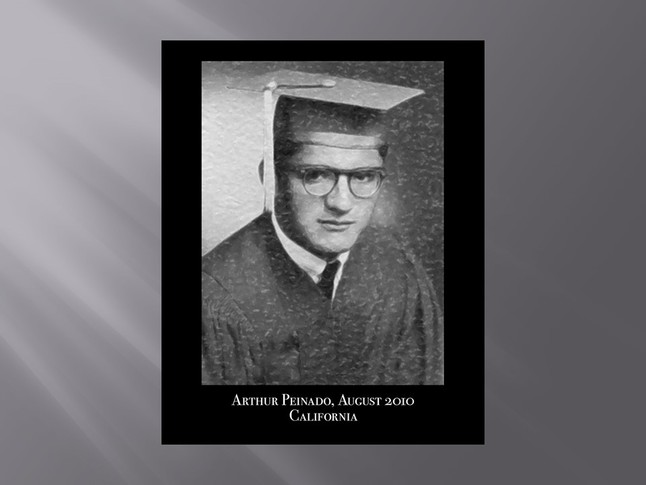 Arthur Peinado from Pat Wieland
Arthur was all-district in football and President of the EPHS Student Body. After high school he attended Johns Hopkins University and Harvard Law School. He was a gentle giant and one of the nicest guys you would ever want to meet. After a very successful career as a commercial real estate attorney in San Diego, he died in August of 2010 from complications of a prolonged struggle with congestive heart failure.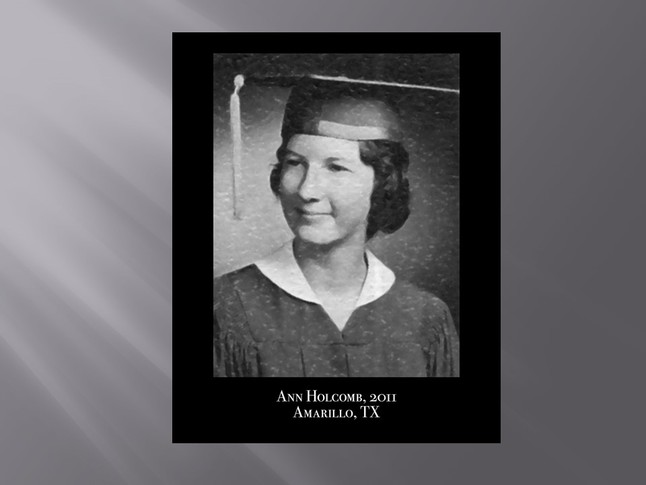 Ann Holcomb
Ann lived in El Paso as her dad, Dysart E Holcomb, was president of Texas Western from 1955-1958. After graduating from Texas Tech, she began a 34-year career as an Amarillo ISD English teacher. She adored her job and felt privileged to teach thousands of sophomores in an Amarillo High School. She and her husband lived in Amarillo and had 2 daughters. Ann passed away in December, 2011.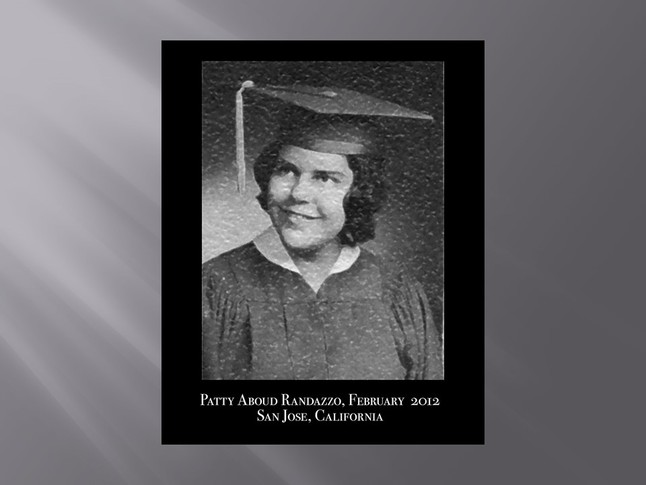 Patti Aboud Randazzo from June (Pug) Templeton Rain
Patti will always be remembered for her contagious optimism and happy outlook on life. She blossomed at UTEP becoming VP of the Student Assn. and by being recognized for her academic and social accomplishments, including being selected for Who's Who and as an Outstanding Graduate.
Professionally, Patti became a beloved junior college teacher, who was totally dedicated to improving the lives and futures of all her students. Her greatest joy was her husband Joe and their two children, Dante and Liana. They made their home in San Jose, California where she lost a long and valiant fight with bladder cancer.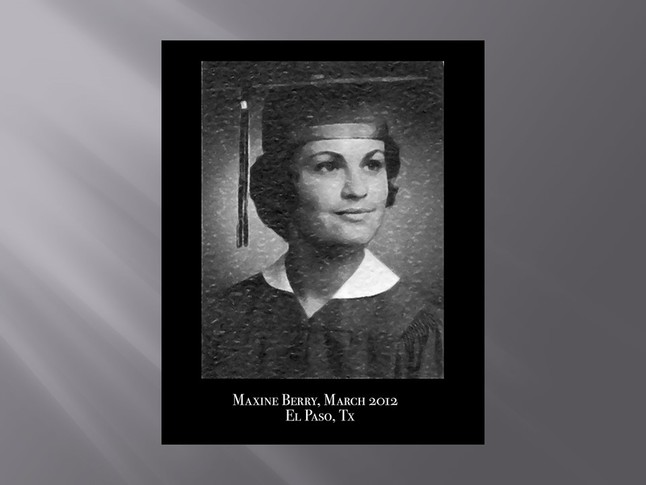 Maxine Berry from Lynnell Patricia Skea Boone
Maxine was my best friend. I will always remember her as a fun-loving soul. She loved to sing and dance and take care of her many animals. I looked forward to my birthday when she would sing to me over the phone. Whenever max was around the atmosphere was bubbly and happy. We shared many experiences throughout the years, and I could always depend on her. She loved to help and take care of everyone. "A very loving special person.''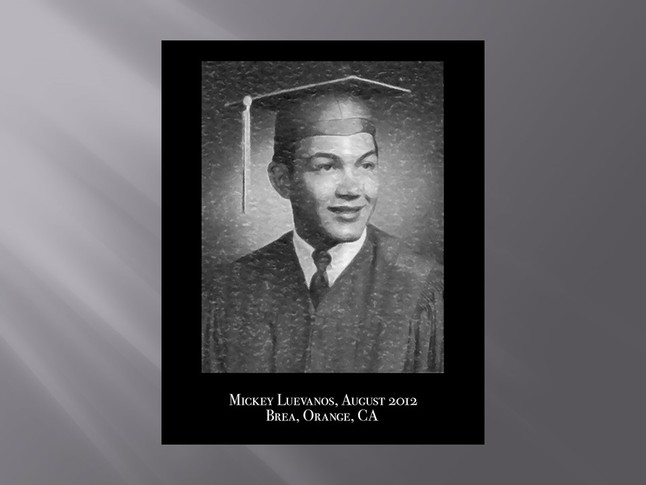 Mickey Luevanos from Cisco Luevanos
Mickey's world revolved in his family. His daughter and son were his pride and joy. Then his granddaughter and grandson came along and they became the focus of his life. Family became the focus of his life. His family was with him until his death in August, 2012.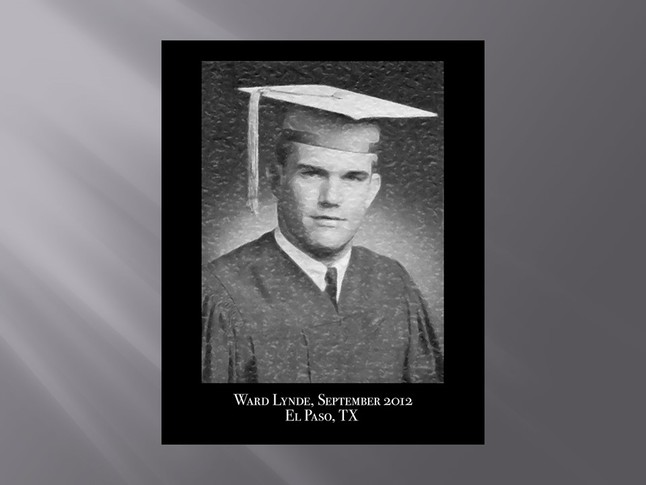 Ward Lynde from Pat Wieland
Ward was the biggest guy on the Tiger football team, but a teddy bear off the field. He was witty and fun. He graduated from UTEP with a degree in art, worked as a conductor for the Santa Fe and Pacific railroads then taught art at Austin High School. He was quite an accomplished jewelry maker, and practiced reflexology. Ward died after a short battle with pancreatic cancer.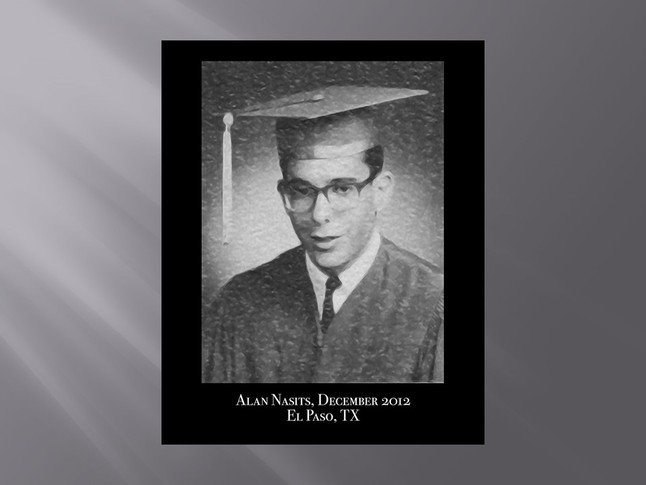 Alan Nasits from Gary Weiser
Alan passed away on December 1, 2012 from heart failure while biking with his wife in the upper valley. Alan graduated from UTEP and went on to law school at Texas Tech. He returned to El Paso after law school and practiced law in El Paso for over 40 years, specializing in Medical Malpractice Litigation. In recent years he was also a mediator and spent much time with his three children, seven grandchildren and his loving wife Mary.
Alan Nasits from Patsy Telles
Alan was a gentle soul who held much compassion for others. He was a successful attorney in El Paso and a solid family man. He passed away while enjoying a bike ride with his wife. So glad he was having fun to the very end!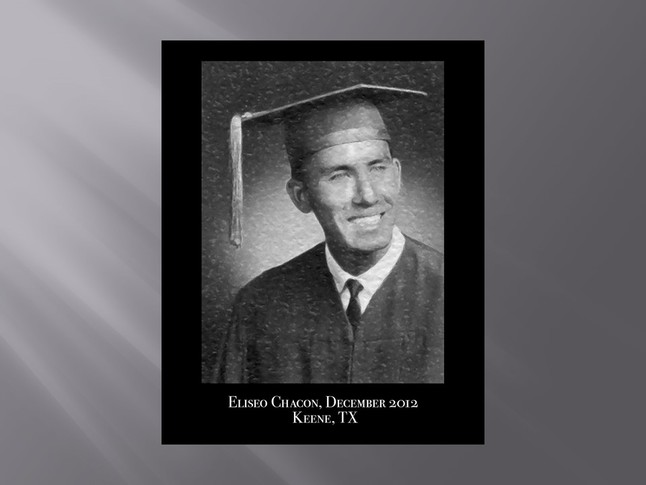 Eliseo Chacon from Martha Lopez Cnossen
Eliseo lived with his wife Amy in Keene, TX. He hadn't been ill but Sunday evening Dec 16th, he came down with a severe stomachache. He canceled going to a church meeting and went to bed early. His wife Amy found him unresponsive in the morning; he had passed away in his sleep.
Eliseo served in the United States Navy during the Vietnam War. He was a teacher in the Fort Worth ISD, retiring in 1998 and then continuing to teach adult education with the Cleburne ISD for several years. He was dedicated to his faith and church, often being the unseen servant who mowed the church lawn or built the needed props for programs, for example. He was a talented harmonica player, guitar, saw player as well as vocalist. He was very family oriented and often took the children on spur-of-the-moment trips to visit family in other parts of the country. Eliseo was a giver, often known for putting the needs of others above his own. He was a gifted craftsman, especially in welding and woodworking. He could make or build anything from toys to furniture.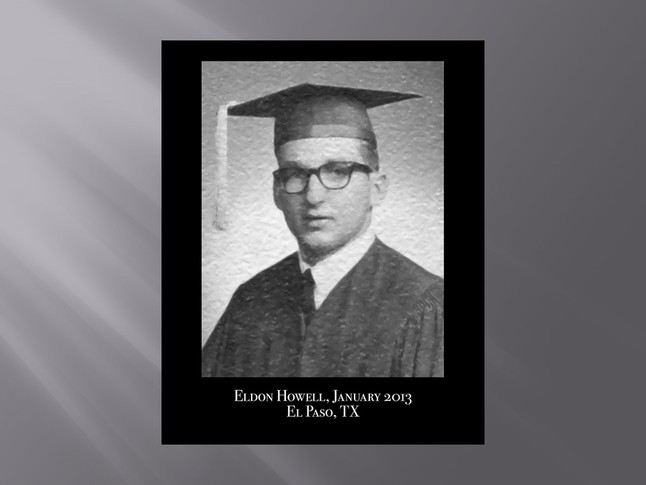 Eldon Howell
Eldon passed away on Friday, January 4, 2013, at the age of 66. Eldon was born, raised, and died in El Paso. He graduated from El Paso High School and attended UTEP while working at Providence Memorial Hosp. He worked 40 years in electronic sales, and was the president of Howell Electronics, and also worked in investments. He had been involved with the Boy Scouts of America, the local West Point Parents Club, the El Paso Gun Club and the Westside Neighborhood Assn.